Shop the Cincinnati Home & Garden Show Like a Pro
There's so much to see and do at the 2019 Cincinnati Home & Garden Show - and we don't want you to miss a thing! Read about this year's must-see features.
The Cincinnati Home & Garden Show is on this weekend and next, taking over the Duke Energy Convention Center February 22-24 + February 28-March 3, 2019. Before you hit the Main Stage for exciting presentations on all kinds of home improvement projects, here's a tour on what to look forward to at the show.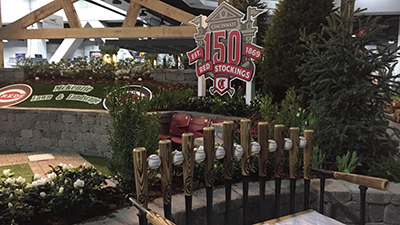 This year, our city is celebrating The Cincinnati Reds 150th year as a professional franchise. To commemorate, McKenzie Landscape & Garden Center will present the team's 150th anniversary garden. Take your time exploring the garden and the nods to the heritage and history of the 1st professional ball team ever with a rich history of legendary players.
Take in all the feature gardens covering more than 10,000 square feet of outdoor inspiration created by Cincinnati's top landscapers.
The newest addition to the "right to your front door" economy is Daisy Jane's Flower Truck, owned and operated by former news reporter Megan Moore. Customers can pick their own flowers and build a bouquet at the truck.
You can also explore the cozy log cabin by Schwartz's Cabins. Yes, the Cincinnati Home & Garden Show decided to bring in an entire log cabin. Take the time to tour every nook and cranny of the beautiful 40 by 16-foot cabin, including the cantilevered bay window, the 20-foot loft perfect for the kids, and the 6-foot porch where you can perch on a chair and take in the activity of the show.
Getting tired? Need some liquid relaxation? Then make your way over to the heart of the action with a stop at the MadTree Beer Gardens. Sit down for a sip of the latest craft beers, and you never know, maybe a new design idea will come to mind. If you're not a beer person and still need time to relax and rejuvenate, escape to the outdoor wine lounge presented by Semco Outdoor in the Feature Gardens in Hall B.And if all of this isn't enough, you can enter to win a 50,000 dollar makeover for your home.
For more details, show information, and a floorplan, check out our
Online Show Guide
. Hard copies will also be available at the Duke Energy Convention Center. We hope you have a wonderful time at the show!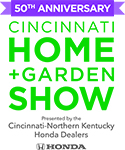 FEBRUARY 23-24 + FEBRUARY 28-MARCH 3, 2019.
DUKE ENERGY CONVENTION CENTER